Greek Left Review
Leader and senior members of far-right party held on charges of founding a criminal organisation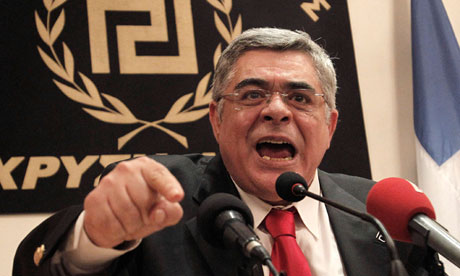 Nikos Michaloliakos was among those arrested on charges of forming a criminal organisation, police said. Photograph: Petros Giannakouris/AP
Greek police have arrested the leader and other senior members of the far-right Golden Dawn party on charges of founding a criminal organisation.
Police announced the arrests of 16 Golden Dawn members, including party head Nikolaos Michaloliakos, spokesman Ilias Kassidiaris and two other politicians.
The arrests included a local Golden Dawn leader in an Athens suburb. The rest were ordinary members. It is the first time since 1974 that a party head and sitting MPs have been arrested.
Police officials said an operation by the counter-terrorism unit was still ongoing late on Saturday morning, and that about 35 arrest warrants for Golden Dawn members had been issued.
The arrested MPs…
View original post 198 more words